Mac Dashboard Widget for Radio G!
Thanks to Karl in Los Angeles, there is an amazing Radio G! Dashboard Widget for Macintosh. It is compatible with all versions of Mac OS X, including 10.8, Mountain Lion.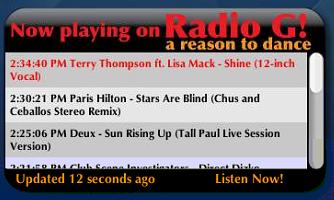 (Not actual size)
Simply download the widget , install it by double-clicking on it, and it'll open up to reveal the current (and most recent) songs on Radio G!. You can even click on "Listen Now!" in the widget to tune in!
Big thanks to Karl for this widget!